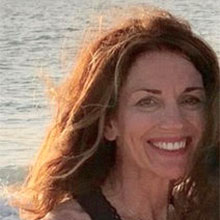 Reiki Master, Psych-K Facilitator, teacher and speaker
Maureen Steines Oehrle has been studying spirituality, ancient wisdom and holistic wellness for over 25 years. She is currently working towards certification as an Archetypal Consultant under the direction of internationally renown teacher, speaker and author, Caroline Myss and the CMED program.
Maureen is a Founding Member of OMA Center for Mind, Body and Spirit and serves on the Executive Committee of OMA's Board of Directors as vice-president. In 2010, Maureen began hosting a holistic lecture series in her home which became the foundation of the OMA Lecture Series in 2013. She is a Reiki Master, Psych-K Facilitator, teacher and speaker, practicing in the Aspinwall area and facilitating classes, lectures and workshops for OMA and Green Heiress Holistic Health. Prior to moving to Pittsburgh in 1999, Maureen had an event planning business in Washington, D.C. She has many creative outlets, including creating sacred jewelry, painting and pottery. She lives in Upper Aspinwall/Fox Chapel with her husband, their two teenage children and their two dogs.