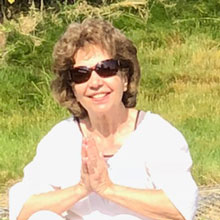 Wellness Personal Trainer and Consultant
Suzen Sharda Segall holds a Masters and a Specialist Degree in Counselor Education from The University of Pittsburgh. For over four decades she has been bringing practical and effective BodyArts Therapeutics self-care to the community and internationally as a Certified Wellness Trainer and Consultant with an integrated approach to health and wellness. Her yoga therapy group and private sessions have become very popular for executives at home. Her workplace wellness lunch and learns and seminars at several RIDC corporations, PPG and UPMC include Tai Chi @ Work, GolfMind, Self-care behind the Terminal, and Introduction to Meditation. School personnel, physical therapists, and medical students have benefitted from her in-service trainings.
Sharda has been sharing her joy of movement, mindfulness and positive psychology with players of all ages for decades. Her fascination with the body mind connection began at age five with dancing school and deepened with yoga and martial arts after college. Her mission is celebrating the inner healer with one and all.
She designed and fascilitates a unique yoga therapy The YeSSS Method of Restorative Yoga that holds wide appeal to baby boomer men and all those challenged by physical activities. Golf enthusiasts are especially improving their short game through her Tai Ji Chinese Yoga series.
Sharda's recent training with Dr. Daniel Amen author of Change Your Brain Change Your Life and the formulator of a patented breakthrough brain supplement, Princeton University's Dr. Jeffrey Stock has greatly informed her work. Be a participant in any of her programs, and experience her signature serenade that was inspired through her Threshold Choir service project of singing at bedside of the ill and dying.
Sharda holds a pop up mindful walking practice with energy exercises in our neighborhood parks on week ends, holds centering clinics for golfers and provides a complimentary wellness consult by appointment to our Green Heiress community.